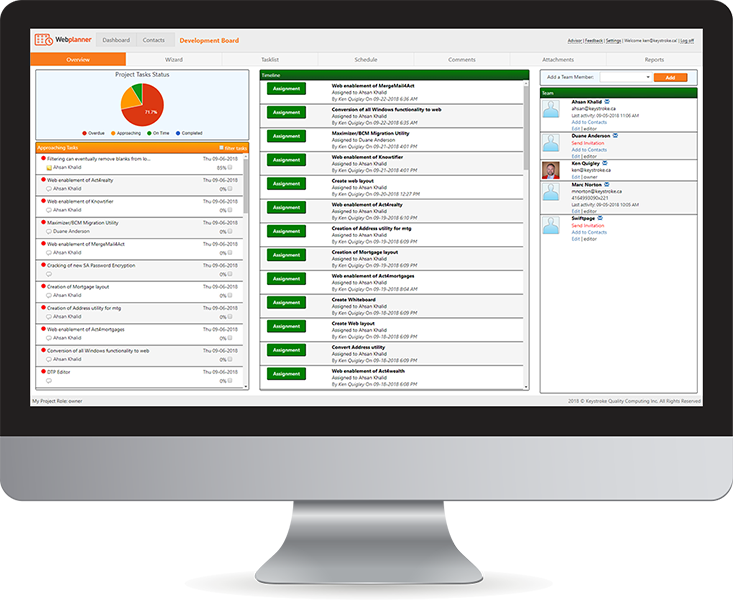 Seamlessly plan and collaborate online with Webplanner.com
Simple Project Management for the rest of us
The project management tool for anyone who plans projects. Whether you're a professional project manager working with non-professionals, someone managing a project without professional training, starting a business or planning a wedding, Webplanner is for you. It's easy to use, with just the right professional features to give you and your team traction on day one. And keep the whole team going, to the finish line. On time. On budget.
Don't be fooled by comparable services that seem to charge the same, only to discover the upcharges based on all additional users. Webplanner charges one-low fee for unlimited collaborators* (Pro only)
Webplanner is the easiest to use Project Management system, with no experience necessary
Works on both a PC (Internet Explorer 10+ or Firefox) or a Mac (Safari)
Designed with both power and simplicity in mind, Webplanner is a flexible and easy-to-learn tool that works for everyone.
When you create a new project, you are guided through a 7-step wizard that helps you organize the phases of your project, assign tasks to team members, and identify goals and obstacles. When you're done, that information is automatically brought to a click-and-drag Gantt chart, where you can visualize, modify, and add new data. Best of all – team members can log-on worldwide and join you in real time!
Webplanner is the online successor to the popular Project KickStart, and fully integrates with Project KickStart Pro 5, allowing users to upload their Project KickStart projects and work on them with team members.